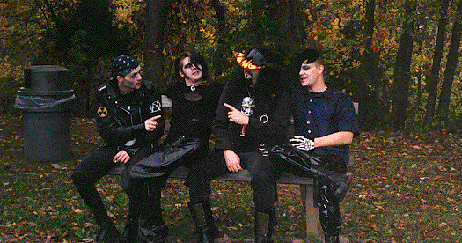 7/06/02 - Gary Moreland has permanently replaced J. Vincent as lead singer. New pics and new band info will be up shortly.

6/13/02 - J. Vincent has taken a leave of absence from the band. Gary Moreland from Thornes of the Carrion will be stepping in for the band's summer show dates.

5/24/02 - The Wankers have had to cancel their appearance at the Sundance Ranch in Watertown, NY on August 9th. Pagan Holiday 1313, however, will still be there.

5/15/02 - Some updates to the tour schedule below. Make a note.

Full Tour Schedule

May 18-Sudsy Malone's, Clifton, Ohio

July 13-Sudsy Malone's, Clifton, Ohio

August 9-SundanceRanch, Watertown, NY

August 10th-Lost Horizon, Syracuse, NY

August 31-Sudsy Malone's, Clifton, Ohio


4/15/02 - Pagan Holiday 1313 will be appearing at the Sundance Ranch in Watertown, New York August 9th. Cincy's own The Wankers will also appear. Be there!!!

4/06/02 - A brand new page of pics in the Images section. Check 'em out!

3/28/02 - Some much needed updating is being done. For those that complained about the message board being taken down, I have put it back up. Now go be good little Pagans and post!

3/28/02 - Pagan Holiday 1313 will be playing a gig at Sudsy Malone's in Clifton, Ohio on May the 18th. Hope to see you there!

2/14/02 - The Pagan Webmaster is finally back online. Lot's of catching up to do, updates will me made in the coming weeks.

*********************************************************

Bassist Mike Pagan and drummer Erik Pagan will be doing a side project called "Monsters Among Us". It will feature originals and covers of 1950's doo-wop songs done death rock style. It will feature good friends Rob Lewis on vocals and Darrin McKinney on lead guitar. More information will be posted in the near future.

If there are any bands who are interested in playing a show with Pagan Holiday 1313 in the Cincinnati Tri-State region, fill out the contact form on the contact page.

The band's upcoming CD entitled "Sex, Drugs and Formaldehyde" is currently being packaged for release. It was recorded and produced by good friend Darrin McKinney of Simple Aggression. Thanks, Darrin! The disc will contain all new tracks, a few redone oldies for our old friends, as well as a cover of a classic Misfits tune!